SCOTUS Brief, Tuesday, July 31, 2018
Keep up with top conservative & legal experts on Twitter:
@SCOTUSBrief 
@JCNSeverino 
@GayleTrotter
@EdWhelanEPPC
@JudicialNetwork
@confirmkav 
Please visit: http://confirmkavanaugh.com for the latest news and information on Brett Kavanaugh.
Here's the news you need to know on this Tuesday, July 31, 2018.
1. Judge Kavanaugh's march to confirmation advances with support from Senator Rand Paul
Minority Leader Chuck Schumer wants Democrats to delay declaring for or against Supreme Court nominee Brett Kavanaugh until Republicans prove they have the votes to confirm the judge. This strategy has been obvious from the start, and its goal is less to defeat Judge Kavanaugh than to protect incumbent Democrats running for re-election.
https://www.wsj.com/articles/kavanaughs-confirmation-progress-1532990320

2. WATCH: JCN's Carrie Severino weighs in on what it will take to get Democrats to support Judge Kavanaugh

http://video.foxnews.com/v/5816050494001/?playlist_id=1484128321001#sp=show-clips

3. If confirmed, Brett Kavanaugh will soon join the Supreme Court. But his ideas arrived at the Court well before him
Through eloquent judicial opinions and nuanced law review articles, Kavanaugh has challenged, in particular, today's increasingly unaccountable administrative state. His uncanny ability to identify fundamental threats to our Constitution's republican institutions, and to anticipate the Supreme Court's own eventual response, is exemplified by three cases.
https://www.realclearpolicy.com/articles/2018/07/31/kavanaughs_supreme_influence_110736.html
4. Senator Heitkamp should vote to confirm Judge Brett Kavanaugh
This is why the members of CWA of North Dakota will unite in a statewide effort we are calling "Women for Kavanaugh" to ask our senators for one simple thing: "Confirm Judge K."
https://bismarcktribune.com/opinion/columnists/heitkamp-should-vote-to-confirm-kavanaugh/article_9cce8b34-e927-59c5-8f9c-d78abbae20c4.html
5. Judge Kavanaugh gets Senator Rand Paul's vote and meets with key Democrat senators
Supreme Court nominee Brett M. Kavanaugh won the support of one critical Republican senator Monday and met privately with a key Democrat as he inches closer to securing enough votes for confirmation to the high court.
https://www.washingtontimes.com/news/2018/jul/30/rand-paul-support-brett-kavanaugh-supreme-court/

6. WATCH: West Virginia Senator Shelley Moore Capito tout Judge Kavanaugh's record, experience, and bipartisan appeal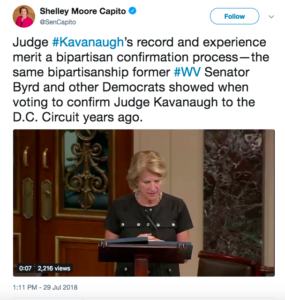 https://twitter.com/SenCapito/status/1023616964630077441/video/1